Thinking of using two way radios on job sites? Take a look at these two way radios for construction!
Two way radios are crucial on construction sites because crews need to be in constant communication. Being able to communicate instantly at the push of a button helps increase safety, efficiency, and of course productivity on the job site. In most cases, workers are outdoors, on the move, and around machinery. Because to this, they need durable, reliable, and weather proof radios. Below is a list of the best two way radios for construction!

The VX261 is perfect for construction sites because its superior audio output allows workers to hear each other clearly. The Transmit Interrupt feature also allows operators to interrupt any communications to broadcast an important message. To improve safety, an emergency alert system can also be programmed to instantly notify help with a press of a button. Lone Worker is a built-in timer that requires the user to reset at set times. If not reset, the radio automatically switches to Emergency mode to alert help. This is an ideal solution for supervisors to monitor the safety status of people working alone.

The VX451 is perfect for harsh conditions and hazardous locations! It can certainly withstand job site abuse as it is water proof and even meets military standards for ruggedness. It boasts 32 channels and is able to integrate seamlessly into a mixed fleet of radios, allowing your system to grow as you do. Similarly to the previous radio, the VX 451 features built-in Emergency and Lone Worker alerts to ensure workers are always protected.
This radio is built for on-the-job responsiveness. The optional Man-Down function monitors a variety of worker timed safety scenarios both vertically and horizontally as well as worker degree of motion. With this radio, workers can feel secure and connected anywhere on the job site.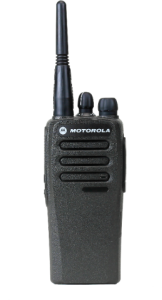 The CP200D portable two way radio provides a reliable and cost-effective way to help work crews connect and get the job done right. Similarly to the VX261, this radio has superior audio quality to ensure workers can hear each other loud and clear in any working conditions. It also has outstanding coverage and a long-lasting battery to ensure your workers will not lose contact.
It is fully compatible with the MOTOTRBO family of radios, so it has the flexibility to grow with your business. The CP200 is also dust proof and splash proof, so you can work with confidence in challenging environments. Its durability, reliability, and simplicity make it one of the best two way radios for construction available!

The MOTOTRBO XPR 7000 Series is a communications powerhouse. It provides superb audio quality, full colour display, integrated Bluetooth for audio and data, enhanced GPS, and even text messaging! The Intelligent Audio feature automatically adjusts the volume according to the noise-level of the environment, and the built-in scrambling feature improves security.
This radio is dust proof, submersible in water, and can keep over 1000 users in contact on a single site! Similarly to some of the previous radios, the XPR7350 has an emergency button and Transmit Interrupt to give workers the confidence that they are protected on the site.

The XPR 7550 is another member of the MOTOTRBO XPR 7000 Series. The main difference between the XPR7350 and the XPR7550 is the large, full-colour screen and keypad. Icons and large easy-to-use navigation buttons also allow for easy menu navigation and message reading. This is a great two way radio for construction, utilities, transportation and more!