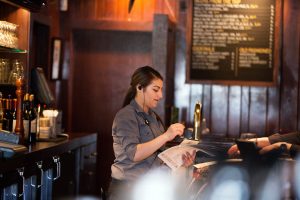 Improve Service With Two Way Radios for Restaurants
Instant communication is extremely important in the restaurant industry. Staff need to be able to contact each other at all times in order to keep customers happy. Using two way radios will reduce the time spent looking for staff, communicating, and executing what needs to be done to make your customer happy. Below, we have put together a list of the best two way radios for restaurants so you easily find what you need!
The perfect walkie-talkie/two way radio for servers and expos.
The CLP1063 is one of the very best two way radios for restaurants. This incredible two way radio is small, slim, and fits perfectly in the palm of your hand. Even more, it is 40% smaller and 50% lighter than similar two way radios in its class. The CLP1063 also comes with a long lasting Bluetooth pod that clips comfortably onto a shirt collar and easily connects to a short-cord earpiece. This means that you can communicate with your staff hands-free from anywhere in your restaurant.
A walkie-talkie/two-way radio suitable for a Server and an Expo.
The CLP1013 is the same palm sized design as the CLP1063, only without bluetooth and therefore less expensive. Though it may not have Bluetooth capabilities, it has a very comfortable earpiece that sits comfortably in your ear. The cord is the perfect length to clip the radio to your waistband. With the CLP1013, your staff can be comfortable while running food, making drinks, tending to their tables, and so much more!